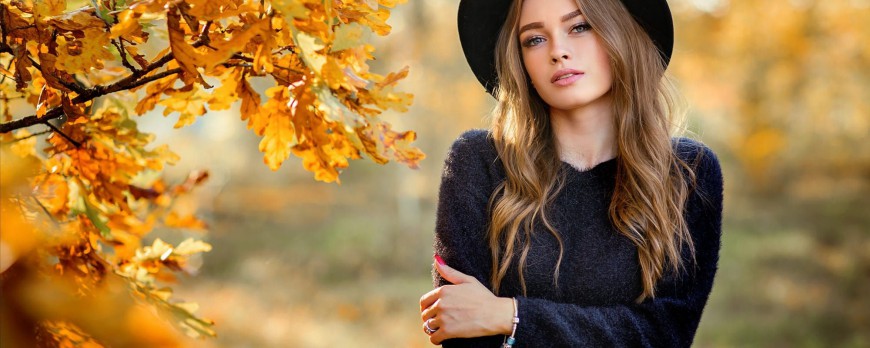 SKIN AND HAIR CARE IN AUTUMN
SKIN CARE
Autumn is the best time of the year to restore the skin's moisture lost in summer, give it back its elasticity and prepare it for the cold winter, so during this season we need to step up our daily skincare routine.
Oily skin: Oily skin suffers from over-application of sunscreens and astringent products that make our skin breathe less. Sometimes, after the summer, acne outbreaks can appear, so it is necessary to change and strengthen the daily routine to recover the skin's perspiration and proper hydration.
Dry skin: Dry skin suffers the most due to weather conditions. The wind and the sun cause a lot of dryness in the skin, which produces a more aged appearance. It is necessary to recover the moisture and hydration lost after very hot days.
RECOVERING OUR SKIN
One of the first steps to follow when it comes to recovering our skin is exfoliation, obtaining a noticeable improvement from the first moment:
Elimination of impurities.
Elimination of roughness.
Preparation for the application of moisturising treatments.
Increased oxygenation of the skin.
Helps the formation of new cells, collagen, and uptake of external water so important for the good condition of the skin.
After a good exfoliation our skin will be much more receptive to the moisturising treatment. We must recover all the water lost to regain a beautiful and radiant skin.
The Exialoe Exfoliating Gel gently removes dead skin cells and impurities thanks to its lactic acid microspheres. You will get a soft, clean, smooth, and radiant skin. With 25% Aloe Vera and provitamin B5.
The night is the most suitable time to focus on our beauty rituals, we have more time for ourselves, and we are more relaxed. In addition, the skin works much harder while we sleep because during the night the skin regenerates, eliminates toxins and recovers from the wear and tear produced during the day.
MOISTURISING CARE
At Exialoe we have moisturising creams for facial care. Its high Aloe Vera content provides multiple benefits: it moisturises the skin, regenerates, cleanses and combats certain skin conditions such as psoriasis, acne, irritations, and eczema.
Apply the Exialoe Cream by keeping your fingers flat and pressing gently with undulating movements (wave effect) from the inside out to improve blood circulation. Don't forget the neck and décolleté. These parts of the body are just as important as the face and can be moisturised in the same way.
7 TIPS FOR RECOVERING YOUR SKIN AFTER SUMMER
Exfoliate your skin.
Cleanse properly, especially in the evening before applying the moisturising treatment.
Moisturise twice a day and never forget to do so.
Complement our beauty routine with the use of masks.
Use suitable cosmetics on the most pigmented areas.
Drink water.
Eat a diet rich in fruit and vegetables.
HAIR CARE
It's not only the skin that changes and needs new routines; the comb, the pillow and the shower are the first to warn us...
Our hair falls out in greater numbers.
Just as trees lose their leaves during this season, our hair enters its renewal phase (telogen phase) in which the hairs that are at the end of their life fall out to be replaced by new ones. We can say that in autumn there is a cyclical and progressive renewal of our usual hair in men and women.
LIFE CYCLE OF HAIR
Anagen phase: Growth phase in which the hair bulb regenerates and produces hair that grows approximately 1 cm per month. Duration: 3 to 10 years.
Catagen phase: Transitional phase that marks the end of the production phase of the hair fibre where the follicle retracts from the surface of the scalp and stops growing. Duration: 3 weeks.
Telogen Phase: Hair loss.
Latent phase: Resting phase in which the hair is attached to the hair bulb but does not grow. It takes 3 months to reactivate growth.
Hair usually dies in spring (catagen phase) so it is normal for hair to fall out in autumn (telogen phase) and recover after 3 months (after the latent phase).
7 FACTORS THAT ALTER YOUR HAIR
Hormonal changes
Stress
Abuse of shampoos, masks, dyes, and products with aggressive ingredients for the hair.
Medication and surgery
Obsession with hair loss
Sun exposure
Poor diet
6 TIPS FOR STRONG AND HEALTHY HAIR
Healthy food: Maintain a balanced diet rich in vegetables, fruit and legumes, sources of vitamin B and D.
Healthy lifestyle: We must maintain a healthy lifestyle avoiding stress and not abuse tobacco or alcohol.
Avoid aggressive cosmetic procedures.
Wash the hair with shampoos with mild active ingredients that remove dirt without damaging the hair.
Massage the scalp.
Food supplements: They provide the vitamins and minerals we need for the strengthening and proper growth of hair.
EXIALOE HAIR PRODUCTS
The Exialoe shampoo with Cosmetic Effect gives hair softness and a luminous shine. It contains 15% pure Aloe Vera, which provides the hair and scalp with the proper hydration and hygiene. It also promotes hair regeneration, allowing its use in case of scalp problems such as itching, dandruff, eczema, seborrheic dermatitis, psoriasis, and other problems that cause infection and irritation of the skin.
The NOURISHING handmade solid shampoo. Especially indicated for dry or dull hair. Ideal for hair damaged by external agents. With 99.7% natural ingredients, such as mango that provides softness, and grape seed oil that promotes growth and gives strength and shine to the hair. Aloe vera and coconut oil moisturises and revitalises, with a gentle conditioning component. Notice how shea butter nourishes damaged hair from root to tip and... radiant hair! Long-lasting, space-saving and plastic-free. Suitable for the curly method.
Handmade solid shampoo for OILY HAIR. Especially indicated for greasy hair, it is anti-hair loss and ideal for scalps with dandruff problems, seborrheic dermatitis, eczema, etc. With 98.9% natural ingredients. Balances and regulates excess oil on the scalp thanks to green clay and extracts of rosemary, thyme, and sage. Tea tree essential oil is ideal for itching, dandruff, infections, and hair loss. It also contains Aloe Vera and coconut oil that moisturises, adds shine and volume to your hair, leaving it clean and moisturised. And… get the best hair ever!
Anti-dandruff treatment. Composed of shampoo and lotion, you will notice the results from the second application. Useful for hair irritation, dandruff, flaking and grease, it provides control over our scalp so that it regulates itself.
Anti-hair loss lotion. The vitalising effect of Exialoe anti-hair loss lotion, with plant placenta, regenerates damaged hair, lengthens the anagen phase of the hair and delays hair loss.
Conditioner & Mask Cream. This mask will help to repair, revitalise, and strengthen the hair by providing a large amount of nutrients and natural active ingredients.
Deja un comentario
Deja una respuesta
Blog búsqueda
Featured articles
Explore why hydration is vital for radiant, healthy skin. Uncover three key reasons to keep it moisturized and when...Read More

Discover the transformative power of hugs! Learn how this simple gesture enhances emotional connections, reduces...Read More

Sleeping well influences how we perceive beauty, both our own and that of others. When you don't get enough sleep,...Read More