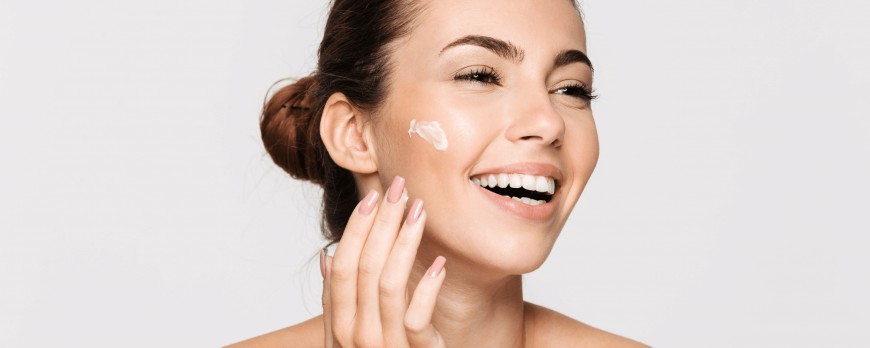 COMBAT DRY SKIN
We often hear that skin can be dry, normal or oily, with different characteristics such as redness, sensitive, dehydrated, with acne... But any type of skin can present a dehydration problem, with more or less noticeable effects depending on the type of skin; for instance, dry skin will suffer more than oily skin.
Normally, dehydration can appear on both face and body, as the lack of water translates into general discomfort after hot showers or baths, accompanied by itching and/or redness of the skin. Although the symptoms are similar, dry skin is not the same as dehydrated skin.
WATER IN THE SKIN
Our body consists of approximately 70% water in adulthood, of which about 15% represents the water that is concentrated in the skin.
Water within the skin moves from the deeper layers of the dermis to the outermost layers of the epidermis, hydrating and moisturising the layers in between as it passes through.
When we talk about the skin's hydrolipidic film, we are referring to the barrier function, which is the most important function of the skin, as it acts as a barrier preventing the loss of water, electrolytes, and other components, as well as preventing the penetration of harmful substances from the environment. The hydrolipidic film is a mixture of sebum and sweat that covers the outer part of the epidermis and which we possess from birth.
Two substances reach the skin surface through the various pores of the skin: sebum (fatty part, "lipid"), produced by the sebaceous glands; and sweat (watery part, "hydro"), secreted by the sweat glands. When they reach the surface of the skin, both secretions mix to form the emulsion known as the hydrolipidic film. It has a dual function: on one hand, it helps to maintain the degree of skin hydration and on the other hand, it is the cause of the characteristic velvety appearance of our skin.
The horny layer is naturally protected by the skin's hydrolipidic film, preventing the skin from "evaporating" water, and keeping it properly moisturised. If this protective barrier is disrupted, the skin's moisture loss increases and there is a direct effect on the skin of dryness, tightness, and discomfort.
DEHYDRATION AND ITS CAUSES
As you will have deduced, dehydration of the skin is an excess loss of water from the skin, generally on the face, but can occur all over the body. It presents a state of tightness accompanied by itching, redness and, sometimes, the presence of scales.
The main causes of dehydration are varied:
PASSING STATE: That's right, seasonal changes, hormonal changes and above all stress, directly influence our skin.
ENVIRONMENTAL FACTORS: Cold, wind and pollution can accelerate the process of water loss in the skin.
BAD HABITS: Tobacco or alcohol have a negative influence on our health and, of course, on our skin.
STRESS AND TIREDNESS: Our skin suffers the consequences of disrupted schedules, daily life, and changes in our routine.
DEFICIENT WATER INTAKE: As you know, our body is 65% water, so the rule of drinking 2 litres of water a day is really important to combat dehydration and water loss.
CERTAIN DRUGS: Acne treatments are usually more aggressive than usual and tend to dry out the skin.
USE OF AGGRESSIVE PRODUCTS: Cleansers with aggressive formulations or the use of exfoliating products on a regular basis can lead to dehydration of the skin.
DRY SKIN OR DEHYDRATED SKIN
The main difference is the duration: a dehydrated skin is a seasonal and temporary process that can affect any type of skin, being reversible with products and treatments adapted to the specific needs of that skin. Dry or very dry skin, on the other hand, is a type of skin that suffers from a constant state of dryness, tightness, and discomfort because of a lack of water and lipids.
DRY SKIN
Dry skin is characterised by a pale, devitalised appearance, signs of flaking, cracking, sometimes inflammation and loss of elasticity. In addition, dry skin often suffers from eczema and atopy, along with skin irregularities.
Dry skin can be caused by many different reasons, just as not all dry skin is the same. Normal dry skin will improve its appearance when treated with moisturising and nourishing dry skin creams all year round. However, other skin with more extreme dryness will need more specific intensive moisturising treatments in order to experience a feeling of comfort.
Dry skin can be:
DRY: Slight dryness and tightness, with little or no flaking.
VERY DRY: With more marked tightness and dryness, presence of flaking, fissures, and cracks.
PRE-ATROPIC XEROSIS: Skin with a rough, rough appearance, with the presence of irritations and blemishes.
DEHYDRATED SKIN
As mentioned above, dehydrated skin is a temporary skin condition. With specific treatments to maintain the skin's hydration, or with a return to normality in the face of stressful or complex situations, the skin will recover its normal state and the dehydration will disappear.
BENEFICIAL ACTIVE INGREDIENTS FOR ALL SKIN TYPES
In both dehydrated and non-dehydrated skin, there are a series of active ingredients that will help to maintain the skin's barrier function in optimal conditions:
HYALURONIC ACID: The most demanded active ingredient in face cream formulations. It is the star active ingredient for skin hydration due to its great hygroscopic capacity (water retention in the skin) and its active and passive hydration: not only does it actively hydrate the face, but it also prevents the skin's own water from evaporating, obtaining a smooth, plump and intensely hydrated skin effect.
ALANTHOTIN: Active ingredient with moisturising and soothing action suitable for all skins. Promotes healing by stimulating cell proliferation.
CHIA: Regulates transepidermal water loss, preventing water loss and slowing dehydration due to its high carbohydrate content with hygroscopic properties. It also has an antioxidant action, preventing damage caused by free radicals, due to its high content of Vitamin C, chlorogenic acid and caffeic acid.
SHEA BUTTER: Shea butter is a natural ingredient that has been used for centuries to treat dry skin. It helps to repair the skin barrier and keep your skin hydrated.
GLYCERIN: An ingredient that can be found in most moisturisers and products. Not only for being an incredible moisturiser, but also for being able to keep the skin's lipids in a healthy state, protecting against irritation and helping to restore the barrier.
EXIALOE PRODUCTS
Body Cream
Gently moisturise and nourish your skin and enjoy its magnificent floral jasmine scent.
With this body cream you will: moisturise, soften, and give elasticity to your dermis.
Containing 15% Aloe Vera and natural beeswax, among other components, it is a regenerating, moisturising, and nourishing cream for the whole body.
It can be used by all types of people and ages, as it has an anti-inflammatory, soothing and regenerative
All-Purpose NEUTRAL Cream
Multi-purpose cream suitable for the whole family. Nourishes, repairs, and regenerates the dermis. It also helps to repair the most common skin lesions.
ExiOasis Cream
The Exioasis cream, as well as having an anti-psoriatic effect, acts as a cell regenerator throughout the body. This formula contains, among others, 65% Aloe Vera Juice, Shea Butter, Avocado, Rosemary, Rosehip, Sweet Almond, Sweet Almond, Sweet Almond, Rosemary, Rosemary, Rosehip, Sweet Almond and Calendula and Turmeric oils.
Therefore, it is a very nourishing cream and recommended for dry skins and skin and cold-weather damaged skin. It can be used all over the body.
Hydro-Nourishing Plus Cream with Coenzyme Q10
Excellent anti-ageing cream especially indicated for dry, sensitive skin and/or skin damaged by low temperatures. With this cream you will achieve a deeply moisturised skin. It also has a powerful anti-wrinkle action due to the hyaluronic acid that retains water, gives volume, and rebuilds the fibres that support tissues.
It contains more than 16% of high-quality oils, including Argan and Calendula.
Deja un comentario
Deja una respuesta
Blog búsqueda
Featured articles
Explore why hydration is vital for radiant, healthy skin. Uncover three key reasons to keep it moisturized and when...Read More

Discover the transformative power of hugs! Learn how this simple gesture enhances emotional connections, reduces...Read More

Sleeping well influences how we perceive beauty, both our own and that of others. When you don't get enough sleep,...Read More