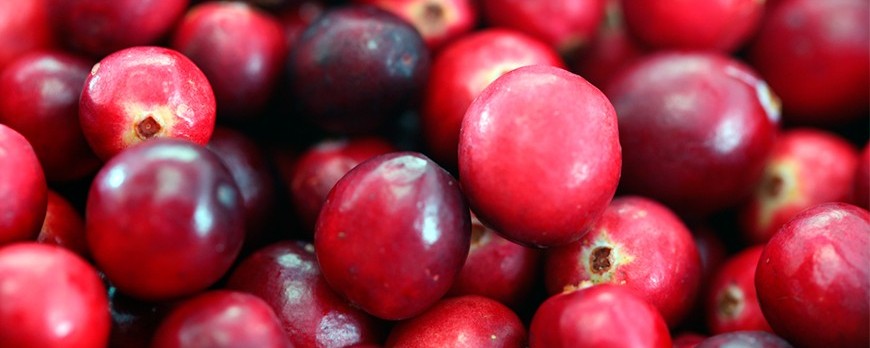 THE CRANBERRY
A lot has been published about the cranberry and its beneficial effects on health, this brief article will show some of these effects:
Healthy stomach
The compounds of the cranberry can avoid bacteria to settle in the stomach. The infections by Helicobacterpylori are responsible of the diseases of the stomach lining and of the stomach and intestinal ulcers that increase the risk of cancer. So the non-stick effect of the cranberries also protects the stomach and the intestines.
Protection of the bladder
By drinking the cranberry nectar or eating the fruit, the risk of bladder infection and urinary tract can be reduced up to 40%.
Antiageing
This fruit has the largest amount of antioxidants, so it is a real antiageing panacea. Its bioactive substances, protect cells from free radicals, that do not only make us age but also affect to our health. The premature ageing of the skin and other affections as cancer and cardiac diseases are consequence of the damaged caused by free radicals.
Protection of the heart and blood vessels
Likewise, cranberries affect in a positive way the health of the heart and of the blood vessels. These berries have flavonoids that protect from arteriosclerosis, main cause of cardiac diseases. They affect positively in cholesterolaemia and avoid that some enzymes narrow the arteries, helping then with blood flow.
Oral hygiene
A mouthwash with cranberry extract can considerably reduce the number of bacteria in saliva if it is used regularly thanks to its anti-stick power. In this way, prevents the formation of tartar on teeth and between them, main cause of the periodontitis and cavity.
Besides cranberry and its peculiar taste allows you a variety of uses. It can be used in the most original salads, to accompany meats with sauces, adding them to yogurt or even having it in cocktails.
You can find for yourself the virtues of the cranberry in our ANTIOXI product,that in order to strengthen its effects we have also included in its composition Aloe Vera, Bilberry, Zinc, Lutein, etc.
EXIALOE LOOKS AFTER YOU!
Publicado en
2016-06-21
News
2
15456
Deja un comentario
Deja una respuesta
Blog búsqueda
Featured articles
Hair is undoubtedly one of our beauty concerns. Having a beautiful, shiny and silky mane requires special care, but...Read More

Autumn is the best time of the year to restore the skin's moisture lost in summer, give it back its elasticity and...Read More

Summer is coming to an end, and it is time to balance, not only of what we have enjoyed but also to assess the...Read More