Os recordamos que el día 8 de diciembre es festivo nacional. Recomendamos que hagáis previsión de vuestros pedidos puesto que ese día no se realizarán envíos. Gracias por vuestra comprensión y disculpad las molestias.
Antioxi
ANTIOXI is a liquid food supplement made of Aloe Vera Juice with Cranberries, Bilberries, Lutein, Zinc and Selenium.
Our Aloe Vera juice is directly extracted from the plant leaves.
It comes from controlled crops in Mexico, where through a patented process called MAP (Modified Aloe Polysaccharide), is kept, and improves the most important factor of the Aloe, its biological activity, this is guaranteed with the ACTIVALOE stamp. This is a process of stabilisation from the cultivation, growth, harvest till the packaging, which quantifies and guarantees that the final product has at least a minimum of 10% of active polyphenols originally from the Aloe. We also have the IASC (International Aloe Scientific Council) guarantee which grants us with the certificates of quality.
The Aloe Vera helps to keep a healthy skin and contributes to keep the natural defences against microorganisms apart from helping with the normal functioning of the immune system and having antioxidant and depurative qualities.
Thanks to the Vaccinium Myrtillus the health of the eyes, veins and capillary vessels is favoured.
Zinc helps to keep a normal cognitive function, to the cell protection against the oxidative damage, the maintenance of the sight, the hair, the skin, and nails in normal conditions. And to the normal functioning of the immune system.
Selenium favours the cell protection against the oxidative damage, it helps to keep the hair and nails in normal conditions and promotes the good functioning of the immune system.
More info
Mode of use:
Take 20 ml two or three times a day or depending on professional advice.
Preservation:
Keep in a fresh, dry and without direct light exposition place.
Keep refrigerated once opened.
INGREDIENTS: Water, fructose, Aloe Vera 10:1 concentrate juice, Cranberry concentrate juice (Vaccinium macrocarpon), flavour (liquid blueberry), preservatives (potassium sorbate and sodium benzoate), lutein, sulphate zinc, Bilberry dry extract (Vaccinium myrtillus), sodium selenite.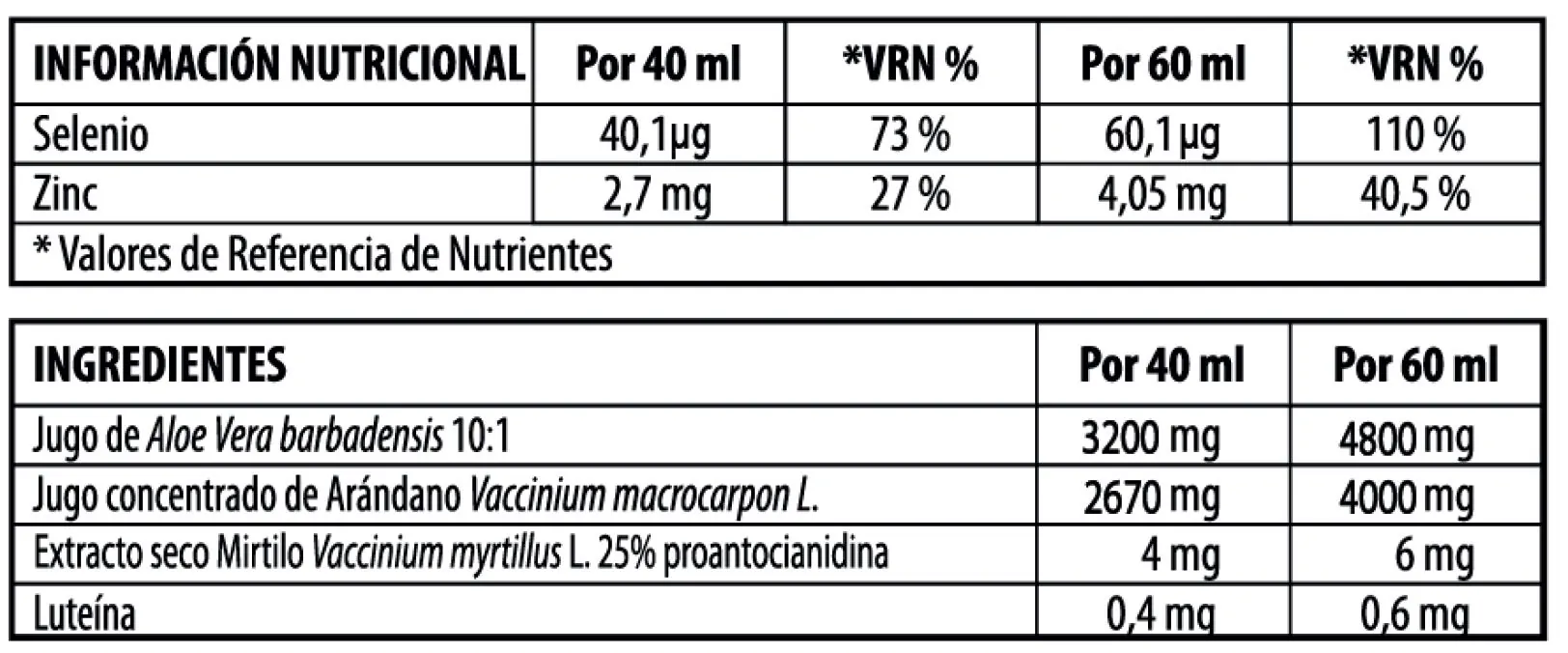 Warnings:
Food supplements should not be used as substitutes of a varied, balanced diet neither for a healthy lifestyle.
Do not exceed the daily recommended dose.
Keep away from the smallest children´s reach.
Over time the product can present slight variations in its aspect or taste which it does not affect its quality.
Do not use in children younger than 12 years old, if you are pregnant or breastfeeding, neither for a long time without asking a specialist.
24 Other products in the same category
Featured articles
Are you tired of dandruff? Don't worry, we'll tell you all about dandruff and how to eliminate it easily.Read More

Royal Jelly: A natural and nutritional remedy with great health benefits. Get to know them!Read More