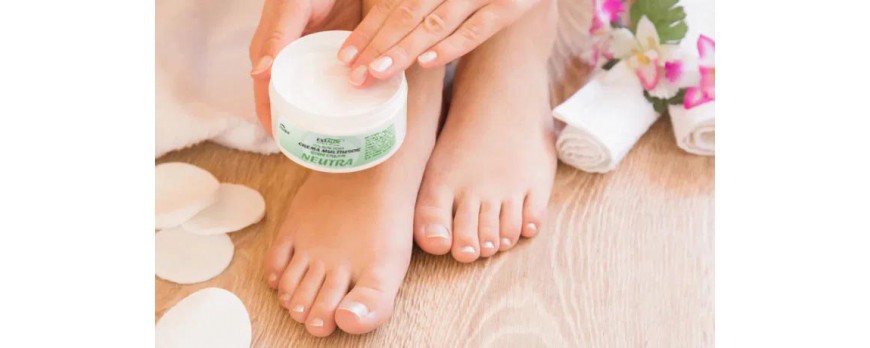 TIPS FOR THE CARE OF YOUR FEET
Feet are without a doubt one of the most punished areas of our body and on many occasions those which we pay less attention to.
Our feet deserve after a hard workday, to receive all the needed cares to feel good.
Most of the time our feet remain hidden, confined inside the shoes, boots, or trainers but when good weather arrives, we want to show off healthy and pretty feet and that will not be possible if we haven´t paid the necessary attention.
All, men, and women should adopt the costume of dedicating some minutes a day to the care of the feet with that, we do not only get pretty feet but also, and the most important is that they will enjoy of good health.
Having pretty feet is not complicated. You only need to dedicate them some time. And especially, including them in your routines and usual beauty treatments.
We start with some tips for the care of the feet, to prevent and to maintain them. You can perform them at home without any problem:
Wash your feet daily. The usual hurries are linked to the fake feeling that we have that the water and soap that run down our feet are enough, although it is obviously not. Wash them daily, preferably with neutral soap and do not forget that they need as much care as you give to your hands.
Give yourself a moment of relax with a relaxing bath for your feet. Prepare hot water and for example, add sea salt, rose water, apple vinegar or sodium bicarbonate. You will enjoy a fantastic feeling of wellness almost instantly and both your feet and your legs will thank you. A ritual that will help you to reduce the accumulated tension, perfect also to favour the right blood flow. Remember not to have the feet in water longer than half an hour.
Do not forget drying the feet thoroughly after the shower or the antistress foot bath. The same way that many times we do not take the time to wash this part of the body as we should, we take even less time to dry them rightly. However, this is one of the most important tips that we will give you today. Dry your feet thoroughly. And above all, dry the spaces between the toes really well which is the safest way to avoid the appearance of fungus and avoiding its unpleasant symptoms and consequences.
Eliminate corns by frequently using a pumice stone or special file for feet. It is important to "attack" the painful and unsightly corns and calluses when the skin is soft. Therefore, we will always do it after the shower or having them in warm water for 15 or 20 minutes.
Do not forget hydrating your feet as often as possible. The skin is more elastic and resistant when it is better hydrated. And in the case that we are speaking of, to keep them hydrated means to provide them of a great barrier against skin infections, corns, and calluses. But avoid applying cream in the feet during the day if you are going to wear closed shoes as if immediately you put your shoes on and/or socks, your skin will not absorb the cream correctly and can generate a humid atmosphere inside the footwear not advisable to achieve the effect that we look for.
Do you like massages? So do your feet! The feet are the base on which all our body rests with the consequent everyday wear and besides they contain numerous nerve endings. Invest some time in a massage of the feet and, doing it regularly will provide numerous benefits such as improving blood circulation, favouring the sleep, reducing the symptoms of tired legs, or relieving the pains and fatigues of neck and back among many other advantages. Try to massage your feet daily before going to sleep using a hydrant cream and applying it with soft circular movements. Introduce this simple gesture in your daily routine and you will soon feel the results.
And even though we tend to think that pedicure and manicure are concepts merely aesthetics, the truth is that the care of the feet goes through the right care of the nails. Both in your hands and feet, they are very important gestures to keep these parts of our body healthy and perfect. Therefore, if you wish to have really nice feet, file your nails carefully and straight to avoid irregular shapes that may derive in painful ingrown toenails.
Exercises for the care of the feet
There is a series of exercises for the care of the feet that if we are constant in their practice will help us to get nice and healthy feet:
Walking on barefoot on the sand, tones the muscles and improves the legs' blood flow.
It is also beneficial to walk on barefoot on the grass.
Walk on your heels.
Pick up marbles with your toes.
Doing turns with the ankles.
Do not forget looking after your feet …your body will thank you!
Publicado en
2021-06-08
por
News
0
2746
Deja un comentario
Deja una respuesta
Blog búsqueda
Featured articles
As you well know, water is an indispensable element for our health, it is vital and should never be in short supply....Read More

Hair is undoubtedly one of our beauty concerns. Having a beautiful, shiny and silky mane requires special care, but...Read More

Autumn is the best time of the year to restore the skin's moisture lost in summer, give it back its elasticity and...Read More