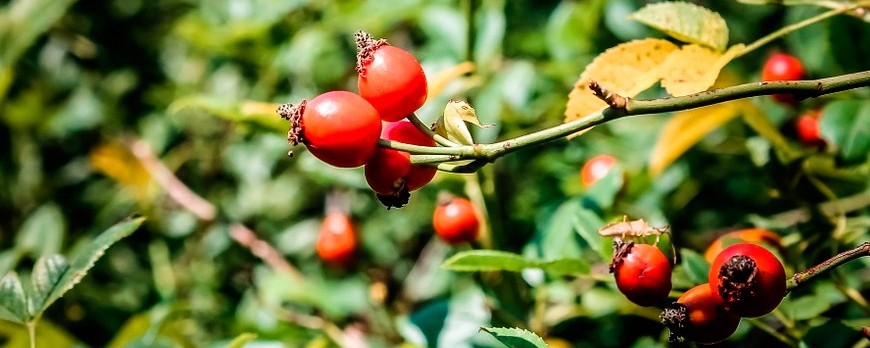 MUSK ROSE OIL
Musk Rose is a wild shrub, thorny, its fruit with vermillion colour that belongs to the family Rosaceae. It is a native plant from Central Europe (Poland, Hungary, Balkans, Caucasus, Russia), although it is also found in a wild state in the foothills of the Southern region of the Andes Mountain range, both in Chile and in Argentina.
Musk Rose oil is extracted from the seeds of the plant. Its excellent regenerative qualities are principally due to its very high content in unsaturated essential fatty acids that are the 80% from which 41% is linoleic acid, 39% linolenic acid and 16% oleic acid. The unsaturated essential fatty acids are essential nutrients in many physiochemical and biochemical processes of the human body and, as we have said are related with the regeneration of the tissues and the cellular growth. They also have a structural function, taking part in the phospholipids (fats that contain phosphorus and main compounds of the membranes of the cells), and they are the pioneers of the prostaglandins (similar substances in their structure to the hormones that regulate the activity of the cells daily and the inflammatory processes and form part of the numerous biological processes).
Different studies done in laboratories of Europe and America about this plant indicate that due to its content in polyunsaturated essential fatty acids Musk Rose oil is highly beneficial for the regeneration of the skin. The oil is used en cosmetics, due to its excellent properties, such as:
It hydrates, provides softness and freshness to the skin.
It nourishes damaged and aged skin.
It delays and reduces wrinkles due to age.
Attenuates expression lines.
Redistributes pigmentation allowing the elimination of solar spots, as well as the ones produced in cases of acne, chickenpox or smallpox, concealing the hyperpigmentation caused by scars.
It lightens and reduces dark spots and/or hyperpigmentationn of the skin due to long sun exposures.
It prevents and decreases the formation of false brinelling.
It has a great capacity of reinvigorating the fibroblast, dermal cell producer of collagen, elastin, hyaluronic acid and responsible of the skin firmness and elasticity.
Treatment of scars produced by burns.
It prevents and corrects photoageing and skin problems caused by solar radiations through the self-generation of melanin.
Attenuates the depth of scars produced by acne, surgical and keloids.
It improves atopic dermatitis.
Treatment of ulcers and sores, in particular due to decubitus and vascular.
Treatment of dry skin and eczemas.
Again in Exialoe we have a product highly beneficial for our beauty as Musk Rose is. Besides, in order to empower its effects we have added 25% of Aloe Vera to it.
Our Musk Rose oil is a NATURAL PRODUCT, WITHOUT PERFUME OR COLORANTS.
Will you not try it?
Exialoe is always with you when it is about your beauty.
Deja un comentario
Deja una respuesta
Blog búsqueda
Featured articles
As you well know, water is an indispensable element for our health, it is vital and should never be in short supply....Read More