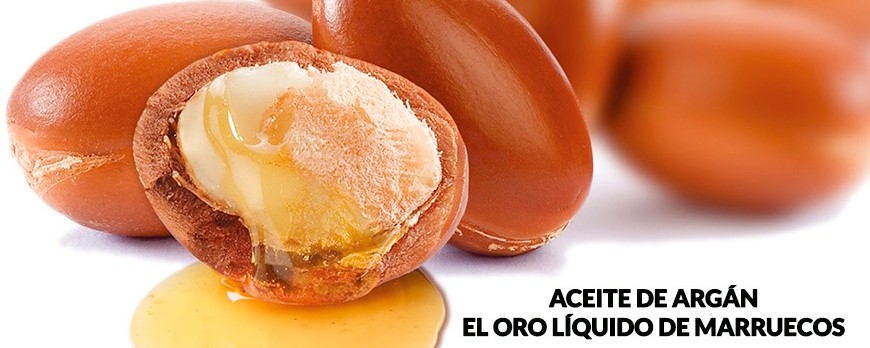 ARGAN OIL
For centuries, the Berber tribes of the Southwest of Morocco have resorted to the Argan oil as a basic component of their diet and as an element of the traditional medicine. At the beginning of the 90's, chemical tests confirmed the valuable nutritional and dermatological properties of the oil. The oil is extracted from the fruits of a tree, the Argan (Argania Spinosa), that today it does only exists in a determined area between Essaouira and Agadir, at the Southwest of Morocco.
The chemical tests reveal that Argan oil has a very important concentration of fatty acids. It is composed of up to 80% of essential fatty acids, oleic acid (45%), linoleic acid (35%). It is highly valued for the big quantity of antioxidants. Besides, it has antiseptic and fungicides effects. It is also a food rich in tocopherols, especially in vitamin E, that represents the 69%.
With no doubt the presence of this antioxidant vitamin explains that partly, the reputation as a dermatological protector and being able to heal. It also has phenolic compounds which combination is unique: the scotenol and spinasterol, a type of sterols not very common among vegetal oils.
Cosmetic properties of the Argan Oil:
It strengthens the hair providing it luminosity and flexibility.
It hydrates the hair.
Stimulates the regeneration and oxygenation of the skin.
It provides elasticity to the skin.
Hydration to the skin.
Antiwrinkle.
It feeds capillary fibres.
It promotes cellular renovation.
It revitalises the skin and provides well-being to it.
Healing properties.
It treats skin irritations (acne, eczema, stretch marks, burns, psoriasis).
It neutralises free radicals and protects against external aggressions.
It treats weaken nails.
As we can see, Argan oil is a great product and highly beneficial, for that, in Exialoe we have this oil with the peculiarity that more ingredients have been included to improve even more its cosmetic properties. The ingredients are the following:
COENZYME Q10: It has a powerful antioxidant action, oxygenates the cells and improves the blood flow so it strengthens its antiageing and regenerative effect of the skin.
VITAMIN E: As it has natural and no synthetic vitamin E, it allows to work against free radicals, responsible of the skin ageing. Apart from favouring a healthy and strong growth of the hair.
In Exialoe we know that if you use our Argan oil your hair and your skin will thank you.
Publicado en
2016-01-05
News
0
16652
Deja un comentario
Deja una respuesta
Blog búsqueda
Featured articles
Hair is undoubtedly one of our beauty concerns. Having a beautiful, shiny and silky mane requires special care, but...Read More

Autumn is the best time of the year to restore the skin's moisture lost in summer, give it back its elasticity and...Read More

Summer is coming to an end, and it is time to balance, not only of what we have enjoyed but also to assess the...Read More