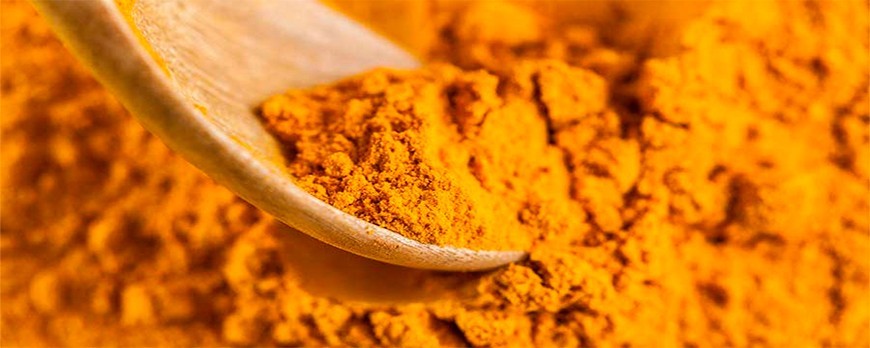 CURCUMIN, HOW DOES IT BENEFIT US?
Curcumin is a substance present in the turmeric. Turmeric comes from the plant Curcuma Longa and it has been used in India as a spice since centuries ago.
Curcumin makes turmeric to possess anti-inflammatory and anti-oxidant properties. Regarding its anti-inflammatory properties, curcumin is used for people that suffer from pain in joints or that suffer from arthritis. Curcumin offers a double action against free radicals, blocks them and next, stimulates the antioxidant mechanisms of the organism.
It also has other very important anti-carcinogenic properties. Likewise, the curcumin also helps to the brain functions through the protection of the neurons by helping to prevent Alzheimer.
Another benefit is that it has anti-coagulant properties, being able to help to thinner the blood by reducing the oxygenation of the plaque in the arteries wall. Therefore, it is beneficial for both people with high blood pressure or high cholesterol, protecting against heart attacks and strokes.
Unfortunately, our organism is not able to correctly absorb curcumin so we can draw on pepper to improve its absorption.
Inside its catalogue of products to improve the health, Exialoe includes "CUMINALOE", a product with a 95% content in curcumin. It also has black pepper to increase its bioavailability allowing our body to absorb the curcumin totally plus Aloe Vera juice that reinforces its action as it has more than 250 active ingredients and a 10 % in polysaccharides that make of it a powerful regulator, purifying and invigorating of our organism.
Publicado en
2019-05-12
News
1
2006
Deja un comentario
Deja una respuesta
Blog búsqueda
Featured articles
As you well know, water is an indispensable element for our health, it is vital and should never be in short supply....Read More

Hair is undoubtedly one of our beauty concerns. Having a beautiful, shiny and silky mane requires special care, but...Read More

Autumn is the best time of the year to restore the skin's moisture lost in summer, give it back its elasticity and...Read More