Os recordamos que el día 8 de diciembre es festivo nacional. Recomendamos que hagáis previsión de vuestros pedidos puesto que ese día no se realizarán envíos. Gracias por vuestra comprensión y disculpad las molestias.
Exialoe Ferro
Exialoe Ferro is a liquid food supplement made from plant extracts, fruit juice, vitamins and iron.
It is rich in iron and vitamin C associated with vitamins from the B group and with wild berry fruits, alfalfa extract and Fruits & Green extracts which is the resulting product of the combination of fruit and vegetable juices of high nutritional value.
It does not contain allergens, lactose, starch, colouring, gluten or genetically modified substances.
More info
Characteristics:
As it is a source of iron and Vitamin B12, it contributes to the normal formation of red blood cells and of haemoglobin, it favours the normal functioning of the immune system and of the cognitive function and it helps to decrease tiredness and fatigue.
It works as an antioxidant able to eliminate free radicals from the body and to stop the reaction of the oxidative chain as it has red grape, aloe and blackcurrant.
The Vitamin C improves the absorption of the iron.
It helps to keep in good functioning of the ocular system, the cardiovascular system, the circulatory system thanks to the grape and the currant.
It contributes to the good health of the bone system, hair and nails thanks to the horsetail.
Ingredients:
Water, fructose, food vegetable glycerine, concentrate blackcurrant juice Ribes nigrum (fruit), concentrate red grape juice (fruit), barbadensis miller aloe vera (leaves), gluconate iron, D.E rose hip rosa canina (fruit), D.E alfalfa medicago sativa, D.E horsetail Equisetum arvense, fructooligosaccharides Cichorium intybus (root), wild berry flavour, guar gum Cyuampopsis tetragonolobus (seeds), D.E fruits & green, preservatives (sodium benzoate and potassium sorbate) pyridoxine hydrochloride (vitamin B6), folic acid, cyancobalamin (vitamin B12).
Mode of use:
Take 10 ml twice a day.
Preservation:
Keep in a fresh, dry place and without direct light exposure.
Keep refrigerated once opened.
Warnings:
Food supplements should not be used as substitutes of a varied, balanced diet neither for a healthy lifestyle.
Do not exceed the daily recommended dose.
Keep away from the smallest children´s reach.
Over time this product could present slight variations on its aspect or taste that do not affect its quality.
Shake before use.
An excessive consumption can cause intestinal discomfort.
Avoid its consumption together with medicines and other fibre based food supplements.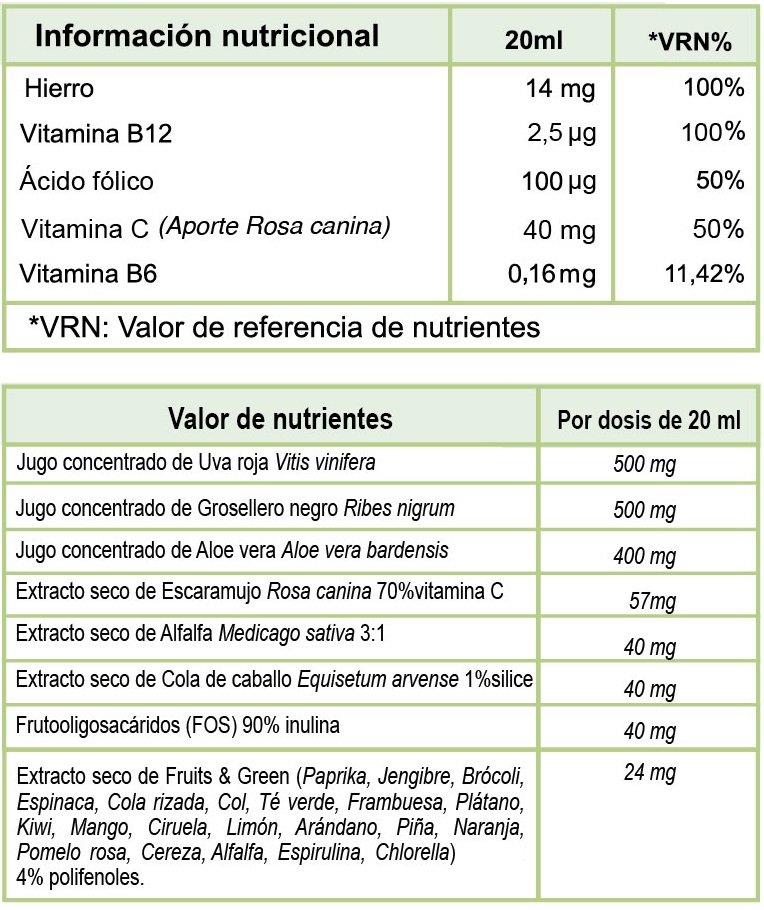 24 Other products in the same category
Featured articles
Are you tired of dandruff? Don't worry, we'll tell you all about dandruff and how to eliminate it easily.Read More

Royal Jelly: A natural and nutritional remedy with great health benefits. Get to know them!Read More