Os recordamos que los días 6 y 8 de diciembre son festivos nacionales. Recomendamos que hagáis previsión de vuestros pedidos puesto que esos días no se realizarán envíos. Gracias por vuestra comprensión y disculpad las molestias.
Aloe Vera Juice + Royal Jelly and Vitamins
New formula: With Royal Jelly, honey and Vitamins A, D and E.
Pineapple flavour.
More info
It is a liquid food supplement with sweetener, made of natural cold stabilised Aloe juice, with Royal Jelly, honey and Vitamins A, D and E. The sweetener used is steviol glycoside.
The Aloe Vera used is 100% natural, without aloin, with a beneficial effect on fatigue, helping to increase the psychic load resistance and to stimulate the metabolism apart from helping to increase immunity.
The ALOE juice used has the IASC (International Aloe Scientific Council) stamp that confirms the quality of the Aloe used and thanks to the ACTIVALOE stamp, it guarantees us that it has more than 10% of active polyphenols.
These qualities of the Aloe Vera are complemented with the Royal Jelly that it has 4% of 10-HDA (10-hydroxydecenoic acid) that helps to keep the immune system in normal conditions, it also has a stimulant effect working as a tonic and restorative apart from having antioxidant qualities.
It also has A, D and E Vitamins that have a role in functions such as these:
The Vitamin A contributes to the maintenance of the mucous membranes, skin, and sight in normal conditions.
The Vitamin D contributes to the absorption and normal maintenance of the calcium levels, helping to the maintenance of the bones in normal conditions. The Vitamin E contributes to the protection of the cells against the oxidative damage.
And the Vitamins A and D contribute to the normal functioning of the immune system.
Ingredients:
Reconstituted Aloe Vera 10:1 concentrate juice, pineapple concentrate juice, honey, royal jelly, flavour (pineapple flavour), acidulant (citric acid), preservatives (potassium sorbate and sodium benzoate), vitamin E acetate tocopherol, sweetener (steviol glycosides), vitamin A (palmitate retinol), vitamin D (cholecalciferol).
Mode of use:
Shake before consuming it. Take three tablespoons (10ml) two or three times a day before meals or as professional recommendation. Keep refrigerated once open.
Warnings:
Food supplements should not be used as substitutes of a varied and balanced diet neither for a healthy lifestyle. Do not exceed the recommended daily dose. Keep out of the smallest children´s reach. Over time the product can slightly vary its aspect which it does not affect its quality.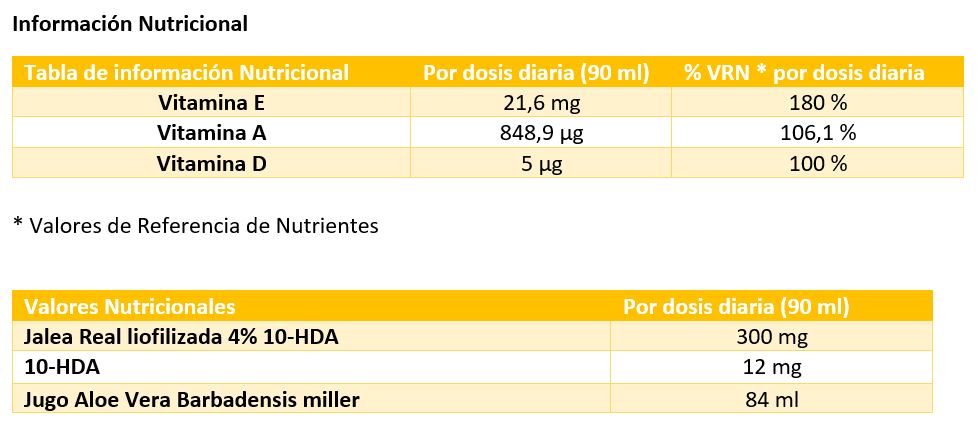 24 Other products in the same category
Featured articles
Are you tired of dandruff? Don't worry, we'll tell you all about dandruff and how to eliminate it easily.Read More

Royal Jelly: A natural and nutritional remedy with great health benefits. Get to know them!Read More